Technical Information
Shellcast High Strength Aluminum Castings with Superior Mechanical Properties
Controlled Solidification Process
As part of our Standard Foundry Procedure, all castings produced at Shellcast are poured utilizing controlled alloy chemistry, a robotic pouring arm and Controlled Solidification chambers, resulting in mechanical properties superior to those obtained with solidification under standard atmospheric conditions.
Rapid Solidification Process for Elevated Mechanical Properties
For requirements with elevated mechanical properties, Shellcast provides a proprietary Advanced Rapid Control Solidification Process during which computer controlled rapid solidification is achieved, ascertaining mechanical properties exceeding those obtained with our standard Controlled Solidification Process.
Alloys Cast
Aluminum based: C355, A356, A357, A201, 40E(D712) and Vanasil. In addition, custom formulations are available from our metallurgical lab.

High-strength Aluminum Alloy A205
Chemical and Mechanical Properties PDF
Typical Material Specs
AMS-A-21180A, ASTM-B618/618M, ASTM-B686/B686M, AMS 4214, 4215, 4218, 4219, 4260, 4261.
Heat Treat
AMS-2771, ASTM-B917/B917M (T5, T51, T6, T61, T71)
Radiographic (X-ray) Inspection
AMS-2175
Penetrant Inspection
ASTM-E1417175
Lettering & Marking
MIL-STD-130
Test Bar
Per ASTM E8/E8M (Separately Cast, Integrally Cast, Appended, or Cut-up Prolongations)
Mechanical Properties
AMS-A-21180A
Lost-wax Aluminum Investment Castings

Detail view of shell cluster during
melt-out phase. See more casting
production process images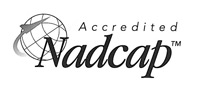 Nadcap AC7108/2  - Chemical-Etching 
Nadcap AC7110/5/-12 -  Welding 
Nadcap AC7114/1/-4  - NDT
Nadcap AC7102/2/-3/-5 - Heat Treating
QMS Certified to AS9100D (2016)
based on ISO 9001:2015